Product Description
Keep Your Dog Busy at Home for Hours
This suction cup dog toy is going to keep your dog busy for hours! 
Just stick the suction cup to any flat surface and watch your dog play with the bouncy ball for hours, just like tug-of-war.
Your dog will LOVE our Tug Toy! 
Designed with you in mind, our toy is perfect for busy pet owners. Use anywhere around the house, simply find a clean flat surface, push the suction cup on, and enjoy watching your dog tug and play.  
The chewing and pulling action helps clean your dog's teeth while also releasing aggressive behavior without causing harm. 
Tough and durable, the toy made from durable materials that are safe even for the most aggressive chewers. 
The perfect choice if you want to keep your dog busy while you're away or if you just want to encourage independent play. 
A great chew toy for dogs. Fasten the suction cup onto a firm surface for a challenging chew toy for your dog to bite and pull.  
Gives your dog something practical to chew on!
A great source of entertainment for dogs. 
The suction cup gives adequate resistance for your dog to pull on.
ALL BREEDS & SIZES of dogs

from puppies to large dogs all couldn't resist giving a quick tug.
WILL IT HARM MY PET? 

Absolutely not! Our Tug Toy was specifically designed with thick cotton fiber rope to prevent any backfire or kickbacks.
FLOOR DAMAGE?

 

We recommend using our Tug Toy on tiled or flat surfaces. Recommended for outdoor use. 
There are roughly 900 million dogs around the world. Of those 900 million dogs 80% will suffer anxiety at some stage in their life. A lack of entertainment and joyfulness in our pups can lead to all kinds of physical and mental health problems for dogs.  
Chewing accomplishes a number of things for a dog. It also combats boredom and can relieve mild anxiety or frustration. But this shouldn't result in destroying things at home. With this chew toy, you can fix your dog's biting problem as they enjoy playing for hours while you can rest-easy your things are all safe – it's a win-win!
Now viewed by over 20 million pet lovers, our Suction Pup Tug-toy is the greatest Tug-of-War toy of all time! Just Stick & Go!
Your dog will never be bored again! Our interactive toy will keep your dog entertained for hours on end. They'll have no idea why it won't come off!
  Package Includes
                 1 * Suction cup
                 1 * Bouncy ball
                  1 * Safety rope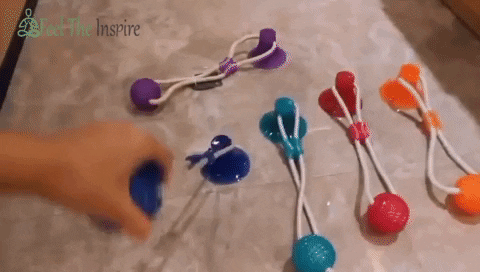 The order processing time can take up to 1-2 business days. Processing includes checking, packing and sending out your order. Please note that couriers do not ship on weekends.